Affordable health insurance for small and medium sized businesses
Equipsme: highly affordable and flexible health and wellbeing insurance from just £7 a month
Today, more than ever, employees are looking for additional benefits from their employer. Private health insurance is the most sought-after benefit, but in the past it's always been expensive for small and medium sized businesses. Kerry London has partnered with Equipsme to offer first-class health and wellbeing cover from just £7 a month. If this sounds like something you'd like to offer your employees then get in touch.
Find out why Equipsme is a fantastic solution for your business and your employees
A healthy benefit for all your employees
According to a recent survey by YouGov ('bob Part 2: Powerful Perks: What People Really Want'), private health cover is the most valued employee benefit after flexible working. But the stark reality is that for most small and medium sized businesses (SMEs) it has always been too expensive to offer. The good news is that Equipsme have managed to change that. Through detailed research and development businesses with as few as two employees are now able to offer health insurance as part of their employee benefits package from as little as £7 per person, per month.
If you employ between 2 and 249 employees this is an excellent, affordable solution to providing health insurance.
What's included?
Equipsme has a core offering, which provides the following benefits:
24/7 access to a GP, with unlimited appointments by phone
Health insurance from leading provider AXA PPP Healthcare, including physiotherapy and diagnosis services
Online health checks
Access to a private nurse helpline
Other cover options
Equipsme has been built in a modular fashion. That means employers can choose to add other cover options to their package to suit their employees' needs. Some of the most popular additions to cover include:
Hospital treatment, including specialists, surgeons, rooms and drugs
Dental and optical cover (extra £7.50 per month, per person) offers dental check-up and treatment with 100% payback up to £200 per year, plus eye test and prescription glasses with 100% payback up to £100 per year
Diagnosis support, including MRI and CT scans
Vitamin D, cholesterol and diabetes diagnosis services
Equipsme cover levels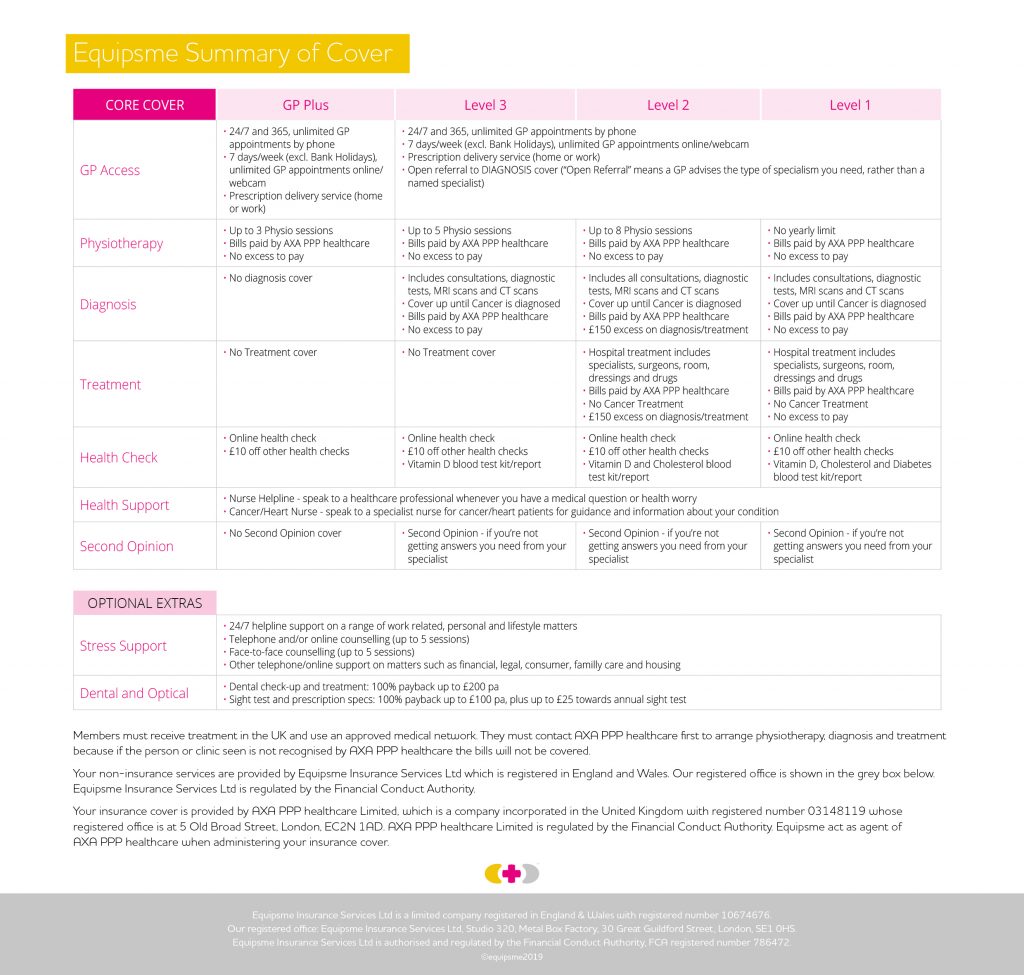 Employees can cover their family members too
Equipsme also allows for employees to add a family pack to their own policy. They can add a spouse or partner for exactly the same cost and enjoy the same benefits. In addition, up to six children under the age of 25 can be added for just 50% of the total employee cost.
It's affordable and hassle-free
Not only is the Equipsme policy affordable, it's incredibly easy to use and understand
The cover is the same for all employees, regardless of age. A 16-year-old has the same cover as a 69-year-old
There are no medical questions to answer to qualify, although there is a 3-year pre-existing condition exclusion
To obtain a quote, just contact Kerry London, tell us how many employees you'd like to cover and we'll do the rest
Find out more
If you'd like to find out more about adding Equipsme cover to your business, just get in touch.