Tuesday 11th October
Property: Fire Risk and Safety
At a glance
Building Regulations normally focus on life safety needs
Additional risk management is required to protect a property and account for property-by-property tenant risks
What needs to be considered at the building design stage
What needs to be considered when choosing automatic detection systems
When constructing a new property, it's necessary to visualise and predict the usage, function and occupation of each part of the premises. This is a practical approach not just for functionality, but also for health and safety of your tenants. Compliance with Building Regulations is only one part of preparing your new property, especially when it comes to fire safety. Standard regulations will emphasise life safety needs but won't take property damage or loss into account. With this in mind, it's important to take additional fire risks into consideration when establishing a new property. In some cases, these considerations can also be applied to existing buildings.
Building Design
No two properties are the same in terms of risk. Even if you have two buildings made of the same materials, the nature of the tenants or occupants will play a big role in determining what risks each property is exposed to. These exposures won't be taken into account with standard building regulations so they need to form part of your risk management plan when it comes to designing the building.
Sprinkler Systems
When properly designed, automatic sprinkler systems have a double purpose of protecting both human life and property. As such they should play a big role in your risk management plan. Consider how each room/area will be used by your tenants and the included fire hazards e.g. use of machinery, electronics or flammable materials.
When selecting a sprinkler system, make sure it adheres to LPC Rules (Incorporating BS EN 12845) and is supplied by a Loss Prevention Certification Board (LPCB) approved firm. This is especially important for larger buildings.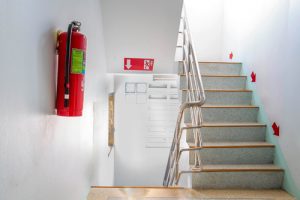 Fire Extinguishers
In parts of the building with increased fire risk or asset value, it's worth considering the installation of fire extinguishing systems. This stretches beyond standard handheld fire extinguishers and includes fire-type specific automatic extinguishing systems. This is worth considering if you have any large-scale cooking areas, electrical equipment or waste bin areas. The potential source of the fire (gas, electrical etc.) will determine the type of extinguisher.
Alarms and Detection
As with sprinkler systems, your detection system should be designed and installed by an LPCB approved firm, under the LCPB's LPS1014 certification scheme. Alternatively, the firm can be approved with the BAFE modular scheme SP203-1.
An important part of your alarm and detection decision will be whether or not to have a system that's connected to an alarm monitoring centre. If you do choose this setup, make sure you check if the centre is accepted by the local fire brigade.
Find out more about Kerry London's experience sourcing tailored cover for Property Owners & Investors.
Categories: Small Business,