Thursday 13th July
Kerry London Kings join T20 Pro:Am
Kerry London is proud and excited to announce our involvement with the T20 Pro:Am Cricket Event.
The T20 Pro:Am is an exciting new event in the world of cricket that brings together professional cricketers, amateurs and legends of the sport. The main sponsor is Greene IPA, along with Travis Perkins, RBC and ourselves.
We're also sponsoring our own team. The Kerry London Kings will be one of four teams competing in the event, all of whom will face one another on Finals Day, 20th August at Northamptonshire County Cricket Club.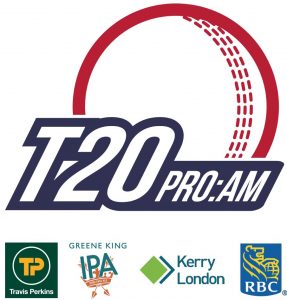 T20 ProAm is also supporting two incredible charities. Runs4Funds was founded by Northamptonshire Steelbacks all-rounder Steven Crook and uses cricket to raise funds and awareness for local children's charities.
PCA Benevolent Fund provides past and present cricket players with a vital support network to help them readjust to the world beyond cricket.
Last night we took part in the draft event, where we received a designated coach, cricket professional and cricket legend. There was an atmosphere of anticipation throughout the night, culminating in a tense round of draft picks.
The Kerry London Kings' team manager is retired English first-class cricketer Jason Ratcliffe. We're also lucky enough to be working with none other than the legendary Monty Panesar, and the spectacular Rory Kleinveldt.
Panesar is an English international cricketer who currently plays for Northamptonshire. Making his test debut in 2007, Panesar has played for Northamptonshire, Sussex and the Lions in South Africa.
South African cricketer Kleinveldt made his international debut in 2008 in a Twenty20 International against Bangladesh in Johannesburg. He has played for Hampshire and currently plays for Northants.
We will also be coached by cricket coach extraordinaire Andy Hill, founder of the AJH Cricket Academy based in Northamptonshire.
Our competition includes the Travis Perkins Trailblazers, the RBC Lions and the Greene IPA Heroes. We'll be sharing the names of our full team shortly.
If you'd like to find out more, you can visit the official event website. You can also follow us on Twitter @KerryLondonLtd as well as the official Twitter @T20Proam, and the hashtag #bepartofit.
We'll be providing updates on all the events and matches leading up to the finals.
Categories: Sport,