Monday 5th September
Managing your property weather risks
At a glance
Part of your research for a new or existing property should be how it will cope in extreme weather conditions.
Roofs should be built to reduce the likelihood of flooding from heavy rainfall, and should be resistant to high winds.
Put measures in place to prevent pipes freezing or bursting with insulation and a central heating system with a "frost-stat".
Consider measures to protect your building and its vital electrical systems from lighting risk.
What is the risk?
Natural conditions for your property stretch far beyond flood risk, ground pollution or subsidence. The question of severe weather should always be considered when it comes to effective property risk management. Whether you are developing a new property or evaluating an existing one, it's important to bear in mind the potential damage and danger caused by extreme weather conditions.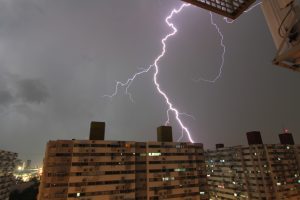 What is the solution?
1. Roofs
Different styles of roof and roof materials have different susceptibilities to weather. Roofs with multiple pitches draining into valley gutters, for example, have difficulty coping with torrential rain. This is also the case for roofs that drain into gutters behind parapet walls. In both of these instances there is a good chance that the roof won't be able to handle heavy rainfall and will leak water into the building.
Make sure that you choose a roof that's resistant to high wind speeds. This is particularly important if your property is in an exposed location where the likelihood of strong winds is higher. Regardless of location, a high-wind resistant roof is worth considering.
Roof maintenance should play a key role in your risk management plan. Your roofs, gutters and drains should be inspected regularly and cleaned at least every 12 months. This is an effective way to detect any defects.
2. Drainage
When anticipating heavy rainfall, your drain infrastructure will factor heavily in risk evaluation. A design where the land slopes down to a door opening is unfavourable, and should be avoided even if a drain or gully is present. If your property includes internal access covers for drains or sewers, make sure that the covers are resistant to the force of flooded drains.
3. Central Heating
Steps can be taken with your central heating system to ensure that they aren't impacted or damaged by cold weather. The installation of a "frost-stat" will override the time timer on your central heating system in very low temperatures to prevent pipes from freezing and bursting. If you have water pipes and water tanks in unheated areas of the property, it's important to make sure that they're properly insulated to prevent pipe-freeze.
4. Lightning protections
If you're considering a lightning protection system for your building, you can contact specialist lightning protection contractors. They can ensure that your protection system is maintained to BS EN 62305 standards. A lightning strike can also put your security and electrical systems at risk. Power surge/ transient over-voltage protection can prevent control systems from being overloaded by a lightning strike.
5. Water tanks and cisterns
The key to reducing flooding risk with water tanks and cisterns is to ensure their respective overflow pipes don't discharge anywhere inside the building. Make sure the discharge aims into a proper drain or outside.
Find out more about Kerry London's experience sourcing tailored Property owners and investors insurance.
Categories: Corporate,