Thursday 9th November
Health and Safety: Your Property in Winter
The UK is beginning to see the temperature drop and the days shorten nationwide. That means that winter is officially upon us.
It's easy to get caught up in Christmas plans and holiday arrangements as we get closer to the end of the year. However, when it comes to your business and your property you should spare a thought for the inclement weather.
Cold conditions can create a considerable number of additional health and safety risks for your business, your property and its employees. Even if we don't see heavy snow, or black ice across the roads, there are still extra risks to be managed to keep your property in good condition.
Here are some of the cold weather health and safety risks to consider to ensure your property and your business get some extra protection.
Preparing for cold weather
Having the proper lighting: We're quickly running low on daylight hours. That means staff and visitors could be visiting your business in dark conditions. Ensuring your premises is properly lit can prevent unnecessary injuries.
Prepping your heating system: When did you last get your heating serviced? If it's been a while, it could be worth hiring a professional to check your heating system over. That way your property won't fall victim to cold conditions and everyone can enjoy relative warmth when they're in the building.
Keeping the premises clear: Dead leaves, slush and snow are never far away in the winter. They also have the ability to hide other hazards and clog drainage areas on your property. Keeping your premises clear of leaves etc. is one of the best ways to prevent an injury or property damage.
Manage ice risks: Do an assessment of your premises to determine the areas most at risk for ice. Once you know where is at risk you can prepare with the necessary gritting supplies.
Staff well-being: Are your staff healthy? Are there any illnesses going around? Make sure they're warm and that they're aware of the best ways to prevent illness during the winter e.g. lots of fluids and rest.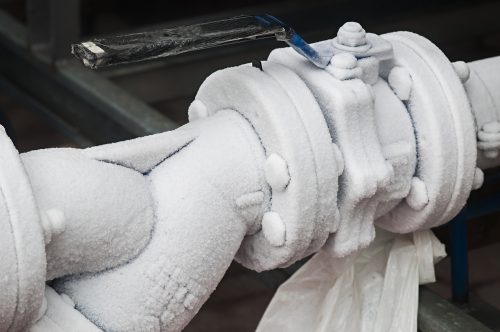 Preventing frozen pipes
This is a common issue when there's cold weather. It can also have serious impacts on your property and business continuity.
Fortunately it can be simple to check and prevent a frozen pipe from bursting.
You may have frozen pipes if…
No water is coming from the tap
The outside of the pipe is covered in frost or ice
The outside of the pipe is bulging
If you discover a water pipe which is frozen but has not burst, follow these steps:
Turn off the stopcock
Remove furniture or equipment that could be damaged by escaping water, where safe and practical to do so
Open the tap closest to the area and begin gently warming the pipe with a hairdryer or hot water bottle, starting from the end closest to the tap and working away from the faucet.
If you have any questions about Health and Safety and ensuring your property is covered, please get in touch with our team on 01923 211 290.
Categories: Property,